What We Do
Super Swimmers Foundation is dedicated to teaching children with autism to swim. "Swimming becomes something magical for children who have autism," says Ms. Julie.  Autistic children have sensory issues, which causes them to feel very comfortable and alive in the water. However, they also feel a sense of adventure and do not understand the consequences of falling into a body of water. This is why we are so passionate about what we do to help teach children with autism to swim and be safe in and around the water.
Super Swimmers Foundation Program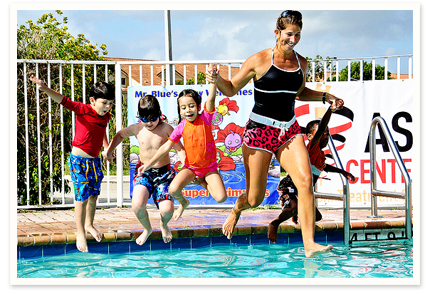 Children with autism will go through a 5 day swim program attending private one on one swim classes for approximately 30 minutes a day. They will receive a book and DVD called Learn to Swim with Mr. Blue and will watch the DVD having their parents read them the story before participating in the swim program. This story will help them begin to process the information needed to help them have a safe and successful swimming experience because children with autism have an amazing ability to retain information.
The swim classes are given by certified swim instructors who have been trained to work with children with autism. These qualified swim instructors meet the parents and child with autism before the swim classes begin and are able to build a healthy and productive relationship together to help further the child's progress.
These swim classes help the children with autism to not only learn to swim but also build their muscular strength, improve their speech and language and help boost self esteem and confidence. These swim classes are the basis of our Super Swimmers Foundation.
Not only do we teach the swimming classes for the Super Swimmers Foundation but we also conduct a water safety puppet show that correlates with the book Learn to Swim with Mr. Blue as well as teach CPR classes and water safety education for parents of children with autism. The puppet show, CPR and water safety education are available upon request for free of charge for schools and for programs that work with children with autism.