All Children Have the Ability to Learn To Swim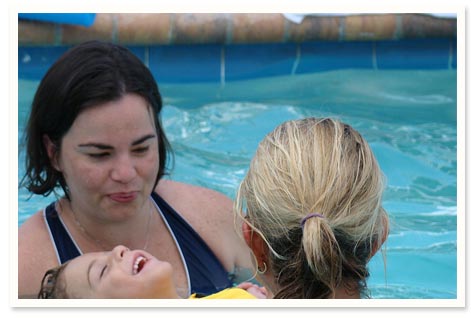 With the knowledge of high childhood drowning rates in the United States, as parents we understand the importance of teaching our children how to swim. For those of us however who have a child with special needs, the thought of where to begin can create a great deal of pressure. The reality is that all children have the ability to learn to swim with the proper guidance. All children are unique having their own special talents and areas of interest. This is the same for children with Autism or other special needs. Each child with autism is different and will progress differently. This is why there are professional swim instructors such as Julie Gross of Swim With Mr. Blue who understand the proper methods, techniques and care that is required to teach all children how to swim.
Children with autism have three areas of concern that have to be addressed. These areas are communication, social interaction and interest. By addressing these areas an instructor can break down the swimming lesson and create a specific action plan for the individual child. All children, especially those with special needs learn best through repetition. Learning a skill of any type requires repetition. The child should be given clear instructions on a frequent basis and the opportunity to use those instructions. Children also enjoy learning most when it is made fun. Mr. Blue and his swimming crew use colorful characters, upbeat songs and true love and compassion to reach children of all ages and capabilities. They provide a safe and loving environment that enables children to build social skills through their relationships with their parents, instructors and other children. They help to build a child's physical strength and coordination through swimming movements and the combination of swimming activity and interaction often helps to break down the barrier of communication for many special needs children. Julie and her fellow instructors see the beneficial side effects of swimming each and every day.

It is important that parents never give up hope. No parent should lower their expectations for their children. Each child should be expected to overcome their symptoms of autism and lead a rich and fulfilling life. Parents continued perseverance is a child's biggest asset. Focus on your child's strengths and celebrate every step of progress. Notice their day-to-day development and praise your child through love. Your child can only benefit from swimming and grow in health and happiness.
For more information on how all children have the ability to learn how to swim, view our additional articles.