Education Opportunities That Benefit Children with Autism and Other
Special Needs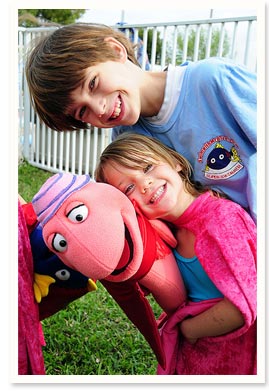 The Super Swimmers Foundation is more than just the opportunity to enhance a child's life through swimming. It is the dream that The Super Swimmers Foundation will become a super center for Autistic and special needs children where education and fitness are combined. The super Swimmers Foundation is about providing opportunity, guidance and support to help each and every child to succeed for a healthy, balanced life.
Educational Support For Children With Autism
As advocates for Autism, The Super Swimmer's Foundation is supportive of The John M. McKay Scholarship Program, which allows parents of students with disabilities to choose the best learning environment for their children. This program enables
any parent of a Florida public school student who is dissatisfied with the student's current education progress to request a McKay Scholarship.  Children who are eligible for the McKay Scholarship may attend a private school or choose another public school that better suits the student's needs.
Why Should a Parent Apply For the McKay Scholarship
The McKay Program puts the power back into the parent's hands. Schools are not "one size fits all." Parents should look into all of their options and choose which best suits the needs of their individual child. McKayScholarship.com firmly believes that the McKay program is not about public vs. private school. It is about each and every individual child having the opportunity to enjoy the education that is right for them. It is about the parents of those children, who know their child better than anyone, and in turn, know what is BEST for their child.
How Is Eligibility Determined
Every student who has an Individual Education Plan (IEP) is eligible for a McKay Scholarship and caregivers of every student who has an IEP are entitled to receive a McKay Scholarship. To be eligible, a student must have an IEP and be enrolled in grades K through 12 in a Florida public school from October 1 through March 1. Students receiving a McKay scholarship and attending a state-recognized John McKay private school automatically retain their scholarship every year until they return to their public school, graduate from high school or reach the age of 22.
Education Is Not One Size Fits All
Through educational options parent's can help provide their children with the best-suited educational environment that they see fit for their child as the unique, one of a kind individual that they are. It is through this program that parents can better ensure that their children receive the best educational resources for growth towards maximum potential. The Super Swimmers Foundation understands this and is excited to mention this beneficial educational program to families of children with Autism or other special needs.
For more information about educational opportunities that benefit children with autism, view our additional articles.
For more information about the McKay Scholarship please visit www.mckayscholarship.com or to participate in the McKay Scholarship program visit the Florida School Choice website at www.floridaschoolchoice.org.